[unable to retrieve full-text content]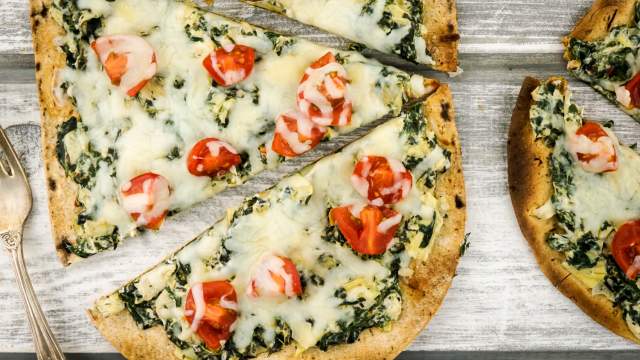 Spinach Artichoke Pizza with all the creamy, cheesy things you love about spinach artichoke dip but in an easy and surprisingly healthy pizza that can be yours in about 10 minutes.
This week I am coming at you with some pizza! And not just any pizza – spinach and artichoke pizza that's actually pretty good for you. No need to feel guilty about this pizza, which is a good thing because you'll probably want to eat this pizza on repeat. I had it the last three days for lunch and I am quite sure it will show up at least once more this week. As someone who loves pizza, I am always on the lookout for healthy pizza options and this hits the spot. It's packed with over one and a half cups of veggies all brought together with cream cheese and mozzarella. Yum.
The other thing I absolutely love about this pizza is that it takes absolutely no time to make. First you soften up some cream cheese and then just stir in the spinach, artichokes, and some spices. So easy. Then spread it out on to your delicious Flatout Flatbread, toss on some cheese and cherry tomatoes, pop it in the oven and in less than 10 minutes you'll be in pizza heaven.
To keep things really light, I went with the Flatout Light Wrap, but you could choose any flatbread you like. There are so many delicious flavors all with less than 150 calories for the whole thing. I always have a stockpile in my fridge for quick pizzas, wraps, and quesadillas. #flatoutlove
Here are some things to keep in mind when making this Spinach and Artichoke Pizzas
If you want some extra protein, this pizza is delicious with some leftover grilled chicken or cooked shrimp. Just add it along with the tomatoes before popping it in the oven.
You can definitely use fresh spinach instead of frozen if that's what you prefer. Just cook it first (in a saute pan or the microwave) and make sure to squeeze out any extra moisture. This step is really important so you end up with a nice crispy crust. You could also use cooked kale or another green.
If you want a more traditionally flavored pizza crust, try the the Rosemary & Olive Oil or Rustic White Artisan Thin Crust Pizzas instead. They are both really delicious options and taste more like a traditional thin pizza crust.
For a creamier topping, add in a few spoonfuls of plain Greek yogurt to make things extra creamy.
Looking for more recipes using Flatout Flatbreads?
This post is brought to you by our friends at Flatout Flatbread but all opinions are 100% mine. Flatout Flatbreads are in the deli/bakery section of most major grocery stores, if you can't find us, just ask or visit FlatoutFinder.com to find a store near you.
Calories 361, Total Fat 16g, Total Carbohydrate 33g, Protein 24g, Serving Size 1 pizza
Published at Mon, 26 Jun 2017 19:20:00 +0000